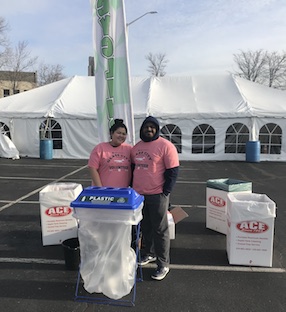 For the fourth year, PCS will be the "Green Team" at the Mercy Health Glass City Marathon in April. We are responsible for helping make the marathon as sustainable as possible through reducing supply waste and diverting thousands of pounds of recyclable materials from a lifetime in a landfill. Last year, the Green Team recycled almost 3,000 pounds of cardboard, glass, aluminum, plastic, heat sheets, Gu packs, and more! We are looking for volunteers to help us in our Green Team efforts. We have three shifts to fill:
Saturday, April 27th from 8 – 11am
Sunday, April 28th from 8 – 11am
Sunday, April 28th from 11 – 2:30pm
Volunteers will be working in the Glass Bowl Stadium and Lot 10, encouraging recycling during the post-race party. All volunteers will receive a free Glass City Marathon t-shirt. If you are interested in doing something positive for the planet during Earth Month, the "Green Team" is a great opportunity for you to make a tangible difference. You can sign up through Glass City Marathon's volunteer website and search for "Green Team." Or contact PCS and we will be happy to register you or your group. If you can't make it to the marathon, please consider supporting us as a charity partner through a donation. At PCS, we promote healthy runners and healthy rivers!