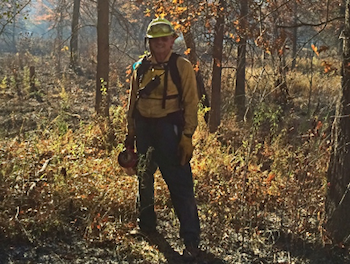 We are taking the opportunity this year to highlight some of the partners that help us achieve our goal of cleaner waters. Our first profile of 2020 belongs to Mr. Rick Bryan, an active environmental volunteer in the Toledo Area! In his own words below, Rick tells of his experiences as an active volunteer for several area organizations.
Rick Bryan: My interest in the outdoors began in Fremont, Ohio, where my friend Biz and I spent many hours wandering along the Sandusky River. It was a time of free range children when parents didn't worry about structured activities for their kids.
I have had basically three careers; first working in a corporate office environment, then running my own wholesale greenhouse nursery, and finally once I retired, as a volunteer in natural resources and the environment. My volunteer career has been the most rewarding by far.
My first really significant involvement with the biodiversity of this area came when Terry Seidel of The Nature Conservancy (TNC) and Denise Gehring of Metroparks Toledo approached me about growing native plants of the Oak Openings Region. This led to the Oak Openings Natives program which provided native plants to the public in many retail locations around the area.
I then became involved with the Green Ribbon Initiative, The Nature Conservancy, and Lucas Soil & Water Conservation District (SWCD). I also have been a member of District 12 Natural Resource Assistance Council (NRAC) since it began in 2001. NRAC administers grant funds for the acquisition of natural areas in Ohio. I have also belonged to Oak Openings Region Conservancy (OORC) for many years. I joined the Stewardship Committee of the Black Swamp Conservancy (BSC) and also do annual monitoring of conservation easements for BSC. I also currently work on the prescribed fire crew for TNC and also enjoy conducting restoration assessments on various Oak Openings properties.
As a member of the board of Lucas SWCD, I have served on numerous committees and related organizations. One of those committees was the Environmental Council of TMACOG. This is when I became aware of the Maumee Remedial Action Plan (RAP) and Partners for Clean Streams. When Erika Buri of The Olander Park System asked OORC to take over as a kickoff coordinator for Clean your Streams Day, I knew this was a creditable organization with an important mission. We look forward to working with PCS and will try to identify cleanup areas having the most impact on our watershed.
I was honored two years ago to be inducted into the Ohio Soil and Water Hall of Fame. This is certainly something I could have never envisioned back in my corporate days. Life takes you down unexpected paths but I could not be happier with the path I am on.