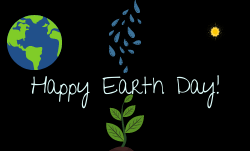 The Earth is full of amazing wonders. None more wonderful than the freshwater that sustains life, like us! Our freshwater is, particularly, unique to our planet, and a resource that is worth protecting - and needs protecting. Unfortunately, due to climate change and pollution, clean freshwater is becoming scarcer and scarcer. We are located next to one of the greatest readily available freshwater resources on this planet and it needs our help. You can join the momentum by cleaning our waterways with PCS. Support healthy waters and healthy communities this Earth Month by:
Joining us for a Reflection of Marine Debris in our Water: Unmasking 2020 presentation! On April 22nd at 7 pm, celebrate Earth Day with us by getting to know our waterways' debris issues and learning how you can better our water quality. This is a virtual presentation. Get the link for this video call by registering here!
Getting Hooked on our Fishing Line Bin Program! We always need people to donate, sponsor, and adopt a fishing line bin! The walleye season is coming into full swing, there is no better way to protect wildlife entanglement from the stray fishing lines than contributing to this problem. Check out how you can help our wildlife stay free and untangled here!
Rolling up Your Sleeves and Completing a Clean Your Streams 365! Show your love for Earth by partaking in a year-round effort for clearer cleaner waterways! We provided all cleanup supplies including gloves, trash bags, data cards, grabbers, and we facilitate trash disposal. We have an extensive site list of various locations along Swan Creek, Ottawa River, Maumee River, Maumee Bay tributaries, Lake Erie tributaries, and more that require marine debris removal. This is a perfect way to celebrate Earth Day. Sign-up here!