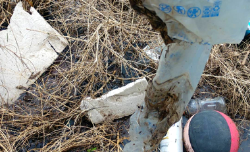 Not everyone gets excited about sitting on Zoom for several hours for four days discussing how to run a non-profit organization dedicated to clean rivers. But we sure were! We were excited to participate and share our stories at the second virtual River Rally. We had the chance to join professional river experts and learn countless techniques for preserving our rivers here in our corner of northwest Ohio. Sessions included tips on how to navigate the virtual world of river stewardship, utilize our resources better, involve board members in daily activities, and how to tell others about our unique story. But online sessions were not the end of River Rally.
We also participated in River Network's Community Clean-up Challenge using the Litterati app. The goal was to remove 2,500 items of trash from our waterways, collectively, across the country. Our Executive Director visited the Maumee River to remove 17 items of trash from our waterways. While our Communications Specialist went alongside a ditch and removed 45 items - mostly Styrofoam and construction materials.
During these experiences, we explored ways to improve our waterways, and we had the chance to reflect on and celebrate our accomplishments in recent years. Throughout the conference, we networked and shared stories with groups from small watersheds to national organizations working to protect their waterways. We realized that although we have a lot of wonderful projects happening here, more can be done to help make our abundant water resources central to our community's identity.