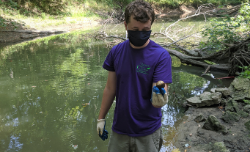 Summer will be here before we know it! Long evening hours, warm weather, and sunsets on the river are the perfect combination for helping your community and our river. We have two great ways that you can get involved with PCS this summer through our annual programs, Get the Lead Out! and Clean Your Streams 365.
The water levels of the Maumee River are lowering, slowly, and the walleye have finished their runs. Soon we can wander along the banks of the Maumee looking for left-behind lead and fishing line. Get the Lead Out! is one of our annual programs. It is great for volunteers of all ages and can be done throughout the summer season. We will have a schedule up soon and you can also schedule your own private event. Contact our office if you plan to attend one of our upcoming public events or wish to schedule your own private Get the Lead Out! Still, need convincing that this program is great for you? This video will take you up close to what it is really like to take part in Get the Lead Out! For more information or to register a group, check out our website.
Clean Your Streams 365 is a year-round effort to give more power to the public to reduce marine debris locally. Our rivers collect trash year-round, unfortunately, so we decided they should be cleaned 365 days a year (except, of course, when the river is flooded or frozen!). Clean Your Streams 365 allows groups of any size, age, and/or ability level to directly improve rivers by working in streams and along the bank. Upon registration, volunteers will be assigned a location to clean depending on their skills, preference, and clean-up needs. We loan out a supply kit complete with cleanup supplies, First Aid kits, data collection reporting forms, and detailed instructions. Date and time depend on the weather, water levels of the river, and group preferences. This way, we can give water a hand nearly 365 days a year! We have several groups and companies scheduled for at CYS 365 sign up your company today! For information or to register a group, check out our website.