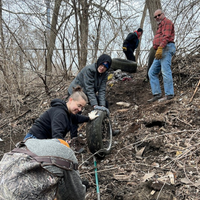 Spring cleaning season is here! Time to renew and refresh what you know about Clean Your Streams 365, our year-long watershed clean-up program, and discover some upcoming clean-up opportunities.
Clean Your Streams 365 is a year-round effort for clearer, cleaner waterways. Volunteers choose their own time and location to remove marine debris. These clean-ups can be PCS staff or Board member-led, or clean-on-your-own. In either case, PCS will provide all clean-up supplies, including gloves, trash bags, grabbers, and data cards to record the marine debris you remove. Once you complete the online interest form, PCS will make all necessary arrangements.
We're hosting a public Clean Your Streams 365 program in April, in partnership with the Great Lakes CleanUP. On Saturday April 30 from 1pm-3pm, volunteers will meet at Cullen Park (4526 N Summit St, Toledo, OH 43611) to remove marine debris from the mouth of the Maumee River peninsula walking trail. Let us know you're coming!
Remember that in lieu of data cards, when you clean on your own you have the option to record the marine debris you remove using the Clean Swell app. Clean Swell lets you track the marine debris on your smart phone with a simple tap of a tile. The app records the amount of trash you have removed, estimates pounds of trash, and tracks your total distance cleaned. So you really can Clean Your Streams 365 days of the year!
If recycling is your spring cleaning focus, volunteer shifts are now open to help with the Mercy Health Glass City Marathon's Green Team. Register using the Glass City Marathon's volunteer portal site, and scroll down to find Green Team shifts on April 22-24.