Glass City Marathon Green Team
Partners for Clean Streams supports the Green Team at the Mercy Health Glass City Marathon. With help from our partners at the Toledo Roadrunners and Keep Lucas County Toledo Beautiful, we work to make the marathon as sustainable as possible. We do our part for Earth Month by diverting thousands of pounds of waste from a landfill through our recycling efforts. We support healthy runners and healthy rivers! We would like to thank our partners at the Mercy Health Glass City Marathon, Toledo Roadrunners Club, Goodwill Industries, Toledo ZooTeens, and our many volunteers who helped runners to recycle and did their part for the planet!
As the Green Team, PCS has diverted over 10,000 lbs of materials from ending up in the landfill!
Our impact over four years:
2500+ lbs of glass
5700 lbs of cardboard
300+ lbs of plastic overwrap and heat sheets
500+ lbs of plastic bottles and cups
3000+ lbs of compost
100+ lbs of Energy Gel packets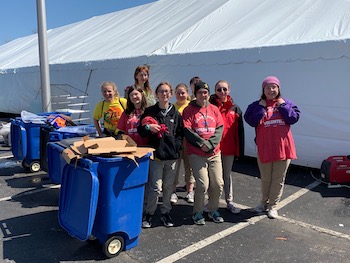 Help sustain PCS while we work to make the Mercy Health Glass City Marathon more sustainable! Volunteer here or make a donation today!