Get the Lead Out (GLO)
Ready, set, GLO! Get the Lead Out (GLO) is designed to remove the discarded fishing lines, lead lures, and marine debris that gets left behind after the spring fishing runs in the Maumee River. Fishing line is made of plastic which doesn't degrade for over 600 years. It can entangle fish and wildlife, detract from the beauty of the river, and hurt people. We provide all the cleanup supplies, safety instructions, and the cleanup site. In a good year, we typically host 6 sessions throughout the summer; though this program is dependent on weather conditions and water levels.
Check out upcoming GLO dates and register here!
Get the Lead Out is perfect for organizations working for community service hours or groups empowered to have clean clear safe water. This program is recommended for people of all ages but supervision is required for anyone under 13 due to the location and nature of materials being collected (i.e. hooks, entangled line, etc.)
Your safety is, as always, our priority. We've updated some of our programs to maximize your safety during this time check them out here
We are proud partners with Berkley Conservation Insititute. After our volunteers and staff collect the fishing line, we clean and untangle the line. We then send it to our partners at Berkley Conservation Insititute who recycle and repurpose the fishing line into spawning enclosures for fish; enhancing the entire life cycle of our great fisheries in Northwest Ohio.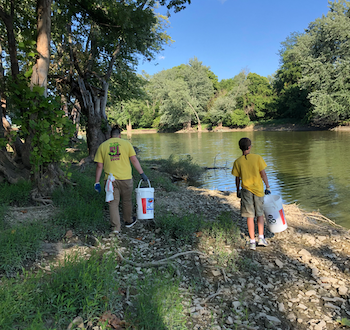 Last year was one for the books. We held 5 Get the Lead Out programs. In total, 60 volunteers removed 202 pounds of trash from the banks of the Maumee River! We are excited to continue to remove fishing-related debris from our rivers and streams in this summer! Sign up here for the 2022 GLO season.