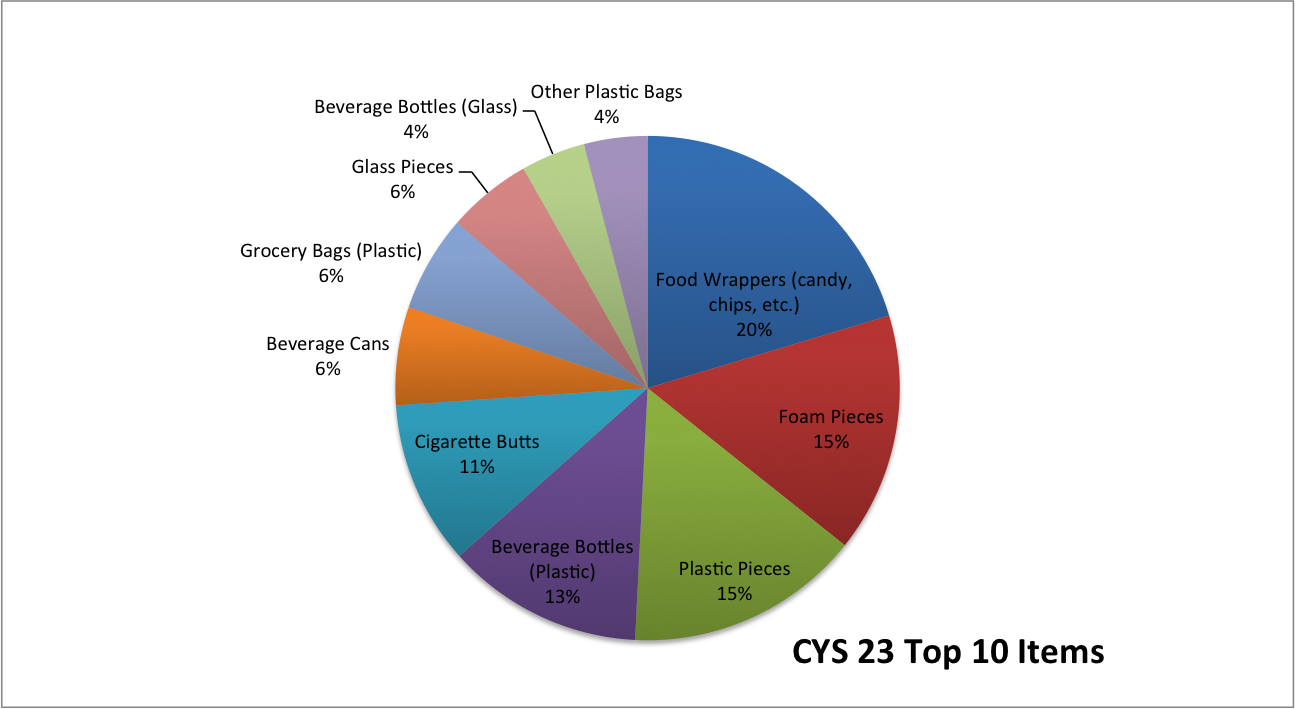 On Saturday, September 21st, 2019, 918 volunteers across Northwest Ohio collected 18,455 pounds of trash and marine debris during the 23rd Annual Clean Your Streams Day. These volunteers covered over 35 river miles and removed litter that would have otherwise polluted the waterways. Each group filled out a data card that tallied exactly what they were finding and how much of each category. Using this data, Partners for Clean Streams is able to submit these findings into the International Coastal Conservancy Database which records global information on marine debris cleanups. It is our hope that this information will be used to affect public and policy change so that cleanups are no longer necessary.
The list of top ten items found across our cleanup sites demonstrates that a significant amount of trash comes from single-use products. This includes items such as food wrappers, cigarette butts, plastic bottles, plastic bags, disposable cups and plates, and aluminum beverage cans. Individuals can have a huge impact on reducing the amount of these types of waste by making conscious efforts to avoid using products that contain these materials. Some of the easiest ways to reduce your footprint are to use reusable water bottles instead of plastic one-time use bottles and by utilizing reusable grocery bags instead of disposable plastic grocery bags. Another great way to reduce food packaging is to buy food from the bulk sections of local stores, such as Phoenix Earth Food Co-Op, The Fresh Market, and Kroger.
During Clean Your Streams, volunteers find many other unique items that tell a different story about marine debris. Unusual and strange items found in 2019 included: a Powerwheels Jeep, several mattresses, street signs, and many tires. It is important to find the appropriate methods to dispose of such unusual items. Many municipalities and cities hold special trash days where people can dispose of large amounts of trash or larger items. Stores such as Best Buy can recycle most electronics and Lucas County provides a number of opportunities for trash disposal, with more information on their website.
We look forward to Clean Your Streams Day each year because of the positive impact it has on the environment and our waterways, but also on the volunteers as they witness the sheer amount of marine debris that accumulates in our rivers. By pulling trash from our local waterways, volunteers get a first-hand view at how much work and effort it takes to keep a river clean and healthy. Partners for Clean Streams' goal is to never have to do a cleanup again because that will mean that there is no longer any debris in our waterways. Until that day, we hope you will join us in preventing marine debris from accumulating, by cleaning up our rivers and streams, and helping us keep them clean, clear and safe for everyone!