Long term projects that make lasting impacts on the environment are a focus of Partners for Clean Streams (PCS) and our community partners. Our partners range from individual local entities (businesses, non-profits, etc.) all the way to larger, multi-organization groups like the Maumee Area of Concern Advisory Committee (MAAC). Many of these projects use new and exciting technology, creative ideas and forward vision for habitat restoration and public awareness. The projects vary from revitalizing decades old campaigns to making a low head dam more ecologically productive. Funding for most of these projects come through governmental or private foundation grants. It is the goal of PCS to use projects like those summarized below to restore all of our local waterways to "fishable and swimmable" conditions.
The Great Lakes Restoration Initiative (GLRI), a multi-agency program that provides funding for projects focused on addressing threats to the Great Lakes, awarded Partners for Clean Streams (PCS) with a $1.36 million grant to restore stream habitat, reduce erosion, enhance wetlands, and improve upland habitat along the upper Ottawa River. Along with the Boy Scouts of America, PCS partnered with the US Army Corps of Engineers on a Habitat Restoration Master Plan to enhance this section of Ottawa River. This restoration project resulted in long‐term benefits for Maumee River and Western Lake Erie Basin habitats. Furthermore, the project also brought the Maumee Area of Concern closer to delisting several benificial use impairments (BUIs); BUI 14: Loss of Fish and Wildlife Habitat, BUI 6: Degradation of Benthos, and BUI 3: Degradation of Fish and Wildlife Populations.
The Maumee Area of Concern (AOC) Data Management and Delisting System (DMDS) was built by Partners for Clean Streams (PCS), in cooperation with the Ohio Environmental Protection Agency (Ohio EPA), for the Maumee AOC. The DMDS is designed to share information, maintain collaboration and communicate the status of the Maumee AOC in a streamlined manner.
Partners for Clean Streams (PCS), in its current form as PCS and under its former identity (Maumee RAP), has been a part of exciting and successful conservation/restoration projects for many years. This work has included watershed-wide restoration plans, work with agriculture leaders and landowners to implement conservation practices, the creation of a sequel to a movie first produced in the 1960's (Fate of a River), and the funding of one of the most successful environmental awareness campaigns ever in northwest Ohio (Give Water a Hand).
The National Oceanic and Atmospheric Administration (NOAA) awarded PCS a $800,000.00 grant that funded seasonal, part-time, temporary and/or full time positions. This team of workers focused on habitat restoration within the Maumee Area of Concern - primarily the Ottawa River and Swan Creek Watersheds, with the help of several partners like Metroparks Toledo, The Nature Conservancy, The University of Toledo, Boy Scouts of America, and City of Toledo. The Maumee Corps utilized a variety of restoration techniques, such as invasive species management within floodplain forest, wet prairie, and riparian habitat. The workers also focused on wetland restoration initiatives, re-planted areas devastated by the Emerald Ash Borer with suitable species, and stream bank planting. The grant ended in 2015 and the numbers speak for themselves. In total, 2,451 acres were treated (includes both acres restored and acres treated more than once), 925 acres were restored, and 37 workers collectively put in almost 38,000 hours.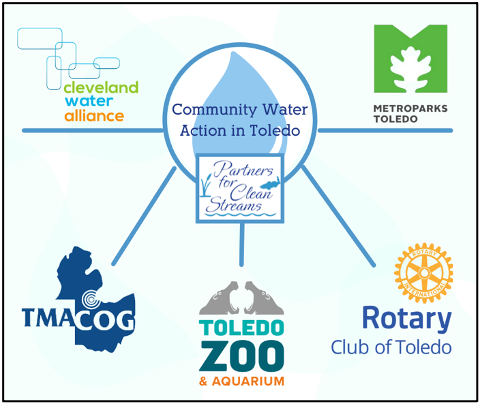 Thanks to a grant from Greater Toledo Community Foundation in 2022, Partners for Clean Streams kicked off a multi-agency program called Community Water Action in Toledo (CWAT) that will streamline volunteer monitoring water quality in our western basin of Lake Erie.
Water quality monitoring is conducted monthly between April – October, beginning in 2023. Check back for more information on getting involved with water quality monitoring in our region!
This grant allows us to connect partner organizations' (Metroparks Toledo, TMACOG, Toledo Zoo, and Toledo Rotary) water monitoring programs by sharing training resources, engaging in volunteer outreach, aligning sampling protocols and methods, and evaluating program success.
Cleveland Water Alliance is providing local partners with additional sampling equipment and guidance. CWAT is the local hub for a Lake Erie region-wide effort of the Lake Erie Volunteer Science Network, led by Cleveland Water Alliance.