Data Management and Delisting System (DMDS)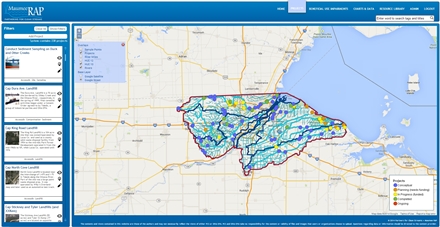 The Maumee Area of Concern (AOC) Data Management and Delisting System (DMDS) was built by Partners for Clean Streams (PCS), in cooperation with the Ohio Environmental Protection Agency (Ohio EPA), for the Maumee AOC. The DMDS is designed to share information, maintain collaboration and communicate the status of the Maumee AOC in a streamlined manner.
PCS has worked and continues to work to develop and maintain an information management system that:
Allows the electronic tracking of the status of each Beneficial Use Impairment (BUI) and the required management actions and/or projects and potential projects that address the BUI;
Has queries and report templates that assist Ohio EPA and PCS in reviewing the status of BUIs throughout the AOC;
Has a web-based presentation of the information where stakeholders can review analytical data and projects, make inquiries about status of BUIs or the location of projects, see graphical representation of the AOC/BUI status; and
Becomes an integral decision-making tool for setting priorities for implementing projects that will help achieve the goal of delisting BUIs.
The goal is to provide a comprehensive, interactive, searchable web-based DMDS that will meet its intended goal of a one-stop-shop watershed planning resource for all the Maumee AOC watersheds. Anyone interested may visit the Data Management and Delisting System (DMDS) and take a look around! Feel free to contact PCS with any questions about this exciting tool.