Page 2 of 6
Ottawa River/Frontal-Lake Erie

Subwatersheds: Ottawa River, Tenmile Creek, Prairie Ditch, Heldman Ditch, Sibley Creek, Shantee Creek, Detwiler Ditch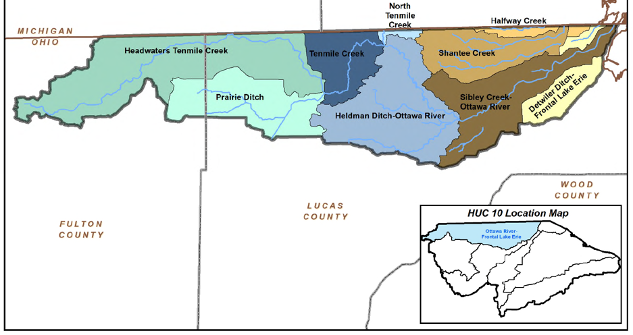 Area: 236 square miles total in the Ottawa River watershed. The Ottawa River is about 20 miles long.
Overview: The Ottawa River's waters flow from Sylvania in the west through Ottawa Hills and Toledo neighborhoods, and empty into Lake Erie in the Point Place neighborhood of Toledo, Ohio.
The headwaters of the Ottawa River (called Tenmile Creek) are located within the Oak Openings region, a globally rare ecosystem that includes glacial-formed sand dunes, grassland prairie, and oak savannah. The area around the mouth of the Ottawa River is heavily industrial, but also includes some historical wetland remnants. Due to industrial, sewage, and landfill runoff, as well as the slow-flowing nature of the river, the Ottawa River was a focus of water quality concerns beginning in the 1980s. In the past two decades, great strides have been made to improve water quality, including the removal of contaminated sediment and reduction of combined sewage overflows into the river. In 2017, Ohio EPA began to allow limited consumption of fish caught in the Ottawa River, and in 2018, the no-contact advisory for the lower 8.8 miles of the Ottawa River was lifted.
PCS Program Spotlight: The first Clean Your Streams Day in 1997 included five Ottawa River sites. Although Clean Your Streams today includes sites all around our region, some of our biggest longstanding kickoffs are still held within this watershed, including the University of Toledo Kickoff and the Monroe Street UMC Kickoff.
Restoration Project Spotlight: Contaminated Sediment Removal on the Ottawa River
Explore the Watershed: Harroun Community Park, Wildwood Preserve Metropark, Ottawa Park, Manhattan Marsh Preserve Metropark
Further Resources: