Page 5 of 6
Lake Erie Tributaries East of the Maumee
Subwatersheds: Cedar Creek, Crane Creek, Otter Creek, Turtle Creek, Wolf Creek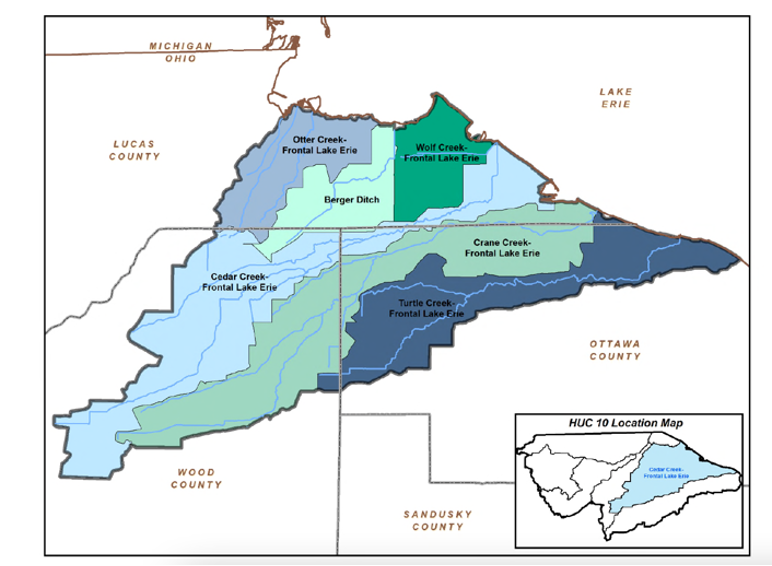 Area: 207.22 square miles. The longest river in this subwatershed is Crane Creek, which runs for 29.9 river miles and is joined by three tributaries (Henry Creek, Little Crane Creek, and Ayers Creek) before it drains into Lake Erie.
Overview: These watersheds are made of a collection of smaller creeks and rivers flowing into Maumee Bay and Lake Erie. These waterways stretches from East Toledo, eastward through Oregon and through several smaller communities in Ottawa County. The area is mostly rural and agricultural, except in the northwest around the Otter Creek subwatershed, which is urban and industrial. Other notable landmarks in this watershed include Owens Community College, Metcalf Field (airport), and the Interstate-280 (I-280) and Ohio Turnpike Interchange.
The watershed encompasses multiple important protected wetland areas, including Maumee Bay State Park, Cedar Point National Wildlife Refuge, Magee Marsh Wildlife Area, and Ottawa National Wildlife Refuge. This watershed is a critical stopover for migrating birds. Every May, birdwatchers flock to these Lake Erie shores annually to participate in the Biggest Week in American Birding to spot rare warblers.
PCS Program Spotlight: Clean Your Streams 365. This program is a year-round effort for clearer, cleaner waterways. Volunteers choose a time and location to remove marine debris. PCS will provide all clean-up supplies, including gloves, trash bags, grabbers, and data cards. While this program operates all across our region, sites in this watershed are great candidates for small group clean-ups; Clean Your Streams Day volunteers typically do not tackle sites east of Oregon, so waterways in this area could use some extra volunteer attention.
Restoration Project Spotlight: Otter Creek Contaminated Sediment Removal
Explore the Watershed: Ottawa National Wildlife Refuge, Maumee Bay State Park, Howard Marsh Metropark, Magee Marsh Wildlife Area