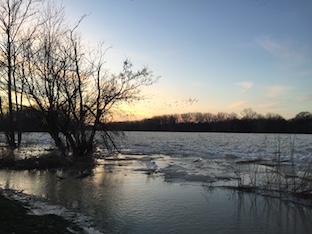 The winter months in Northwest Ohio are unpredictable, especially this year. But sure enough, the cold and snow have arrived, and so too has cabin fever – the feeling that we are trapped indoors, because of wintery conditions, until the tulips and daffodils arrive in spring. What many people don't realize is that winter is an exciting time of the year, during which the world around us is very much alive and ready for us to explore. We, at PCS, want you to see and experience the natural beauty of Northwest Ohio all-year round. Below, we have provided several opportunities for you to do and ultimately, help you find a cure to your cabin fever.
The Metroparks of Toledo offer many programs during winter such as snowshoeing, hiking, birding, and stargazing. Many of their programs are weather permitting, and require registration. Click here to learn more.
If your entire family has cabin fever this winter, check out Olander Park's Winter Family Fest! This event offers many winter activities for your family such as snowman building, ice skating, curling, and broomball on the ice as well as indoor activities like live music, hot chocolate, and a chili cook-off. The event is on Saturday February 20th, from 11:00am to 4:00pm. For more information, visit Olander's website or email This email address is being protected from spambots. You need JavaScript enabled to view it..
Does your dog have a case of cabin fever too? If so, take him or her for a long walk on one of the dog-friendly trails at Wildwood or Farnsworth Metroparks. Wildwood offers a 3.3-mile-long trail along the Ottawa River with multiple scenic overlook opportunities. Farnsworth Metropark is at the beginning of the Towpath Trail, an 8.3-mile-long dog friendly trail along the scenic Maumee River. A lot of natural beauty to be seen on these trails, and good smells for your dogs too!
Before you and your family venture outside this winter, be sure to layer clothing and wear hats, gloves, scarves, and appropriate shoes for snow and ice-covered ground. Also, bring a camera to document and share your experiences with friends and family. If you take a picture that you'd like to share with the PCS community, email the original to This email address is being protected from spambots. You need JavaScript enabled to view it. and your picture may appear on our various social media accounts! Lastly, be extremely cautious while walking near the river; it may look frozen but do not walk on the ice unless you know that it has been checked and approved by a professional. Now, get outside and rid yourselves of cabin fever!