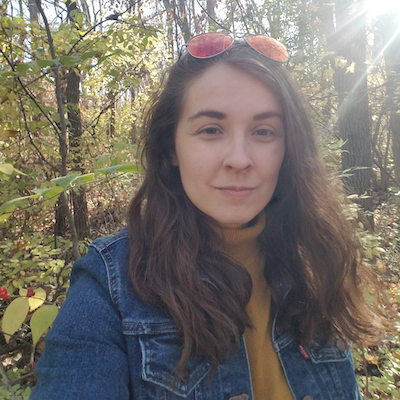 Liv grew up exploring Oak Openings sand dunes and getting muddy in the Maumee River. Liv earned a Bachelor's degree in Environmental Geography and East Asian Studies from Ohio University in 2015. Liv took two opportunities to live in China, first for a summer study abroad program at Beijing University, and two years later, to work as a staff writer for The World of Chinese art and pop culture magazine.
Although life in Beijing was exciting, it was easy to miss mature trees and diverse wildlife. Liv started a habit of hiking and camping trips in the countryside hills outside the city. When they moved back to the United States, it was with a newfound appreciation for America's unique place in environmental history, and a deep longing to work in environmental advocacy.
Liv earned a Master's Degree in Public Administration from Bowling Green State University in 2019. Since returning to Northwest Ohio, they've worked in visitor engagement at the Toledo Museum of Art, as an administrative assistant to the Buddhist Temple of Toledo, and as an LGBT advocate, both as an independent consultant and with Equality Toledo.
Liv enjoys the area's many parks in all four seasons: cross-country skiing in winter, wildflower identification in spring, camping in summer, and trail biking in the fall. When they're not outside, Liv can be found singing, playing guitar, and storytelling via elaborate Dungeons & Dragons games with friends.