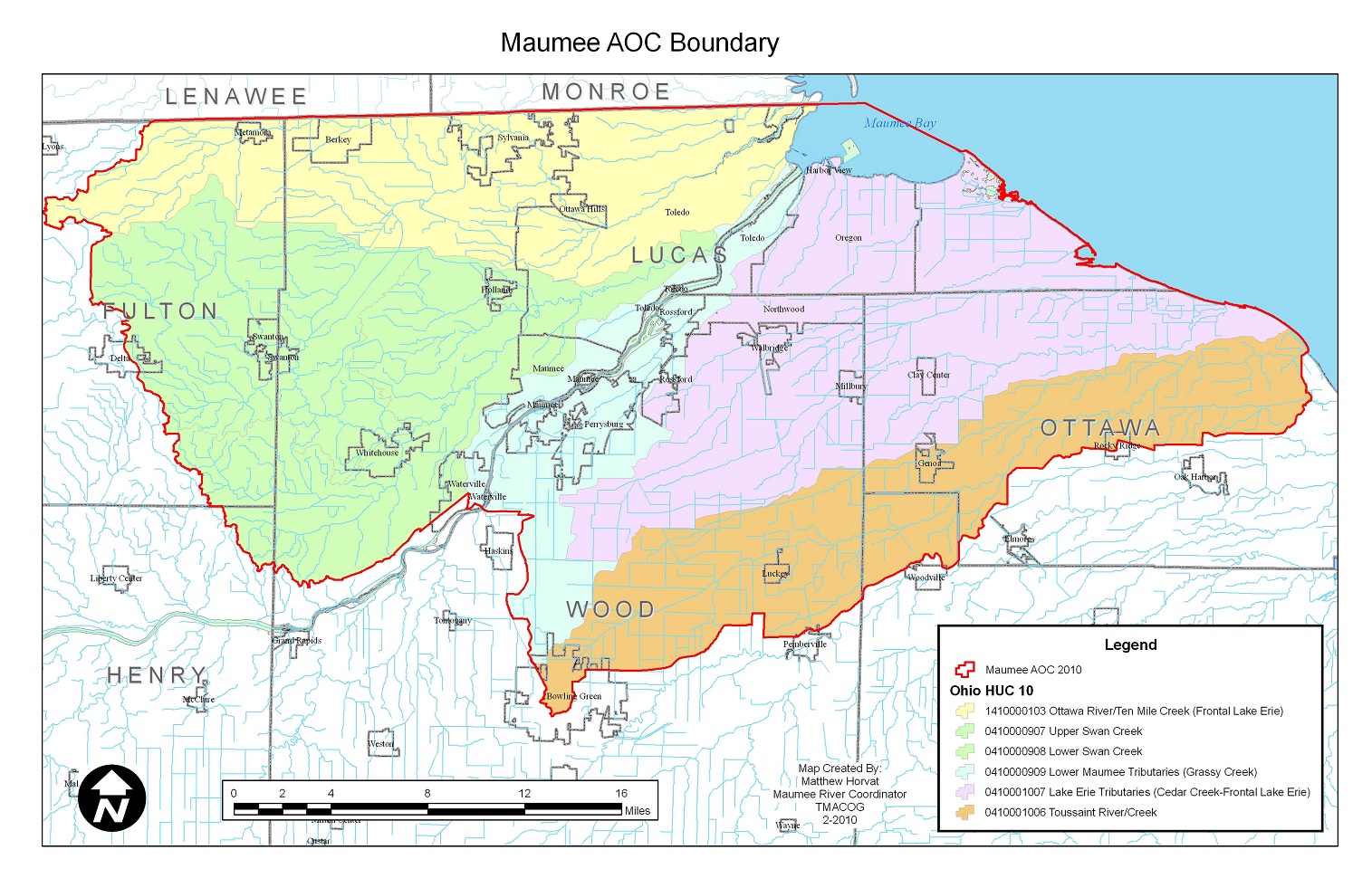 The Maumee Area of Concern (Maumee AOC) was established in 1987 in accordance with the Great Lakes Water Quality Agreement; overseen by the International Joint Commission, which defined Areas of Concern. The Maumee Remedial Action Plan (RAP) Committee, set up originally under TMACOG (Toledo Metropolitan Area Council of Governments) was made up of government officials, businesses, industries, universities, and other interested individuals with a passion for fishable and swimmable water. The group developed a Remedial Action Plan or RAP.
From 2003 – 2006, the RAP Committee undertook an ambitious effort to create the regional Watershed Restoration Plan, combining requirements from the International Joint Commission, US EPA's, and Ohio's watershed plan requirements with the next phase of RAP planning in 2006. This regional plan helped guide the projects focused on restoring the impacted waterways. To provide a dynamic, readily accessible, and current "plan," we developed an online Data Management and Delisting System (DMDS), which is still used and updated today. The system provides relevant data specific to the BUIs, the status of the BUIs throughout the AOC, projects in the AOC, and other resources.
After much discussion, the Maumee RAP Committee determined in early 2007 that their best path forward for efficiency, effectiveness, and sustainability would be to form their own non-profit 501(c)3 organization and to leave the umbrella of TMACOG. In March 2007, Partners for Clean Streams (PCS) was officially created. The Maumee RAP Committee was one of PCS's committees focusing on specific goals of addressing the Area of Concern's Beneficial Use Impairments while continuing to restore and improve the Maumee AOC until 2015.
The committee is now a stand-alone committee, reformed and re-named the Maumee AOC Advisory Committee (MAAC), with PCS helping to facilitate meetings and encourage a pipeline of targeted projects. Despite all the name changes, the RAP, MRAC, and MAAC have continued to work with the community to spearhead education, community clean-ups and Earth Day programs, support funding for major investigations, and habitat restoration work to help make progress on restoring healthy waters. Read more about the MAAC here, maumeeaoc.org/