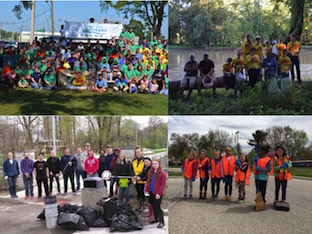 2017 has been an exciting year for us at Partners for Clean Streams! We have been working hard all year to improve our local waterways through our volunteer-based programs and educational outreach. This year, we were involved in multiple partnerships focused on water quality issues. PCS participated in 15 outreach events including: UT Earth Day Fest, the Toledo Zoo's Party for the Planet, Camp Miakonda's 100th Anniversary celebration, and the National Museum of the Great Lakes Marine Debris seminar. We had two additions to the staff – Paul is the new Program Coordinator and Hannah is the Communications and Outreach Specialist. In 2017, our volunteer events reached 1,282 individuals, cleaned up 90 sites, and removed 29,842 pounds of trash and debris from our waterways.
In the spring, we hosted the Youth Water Quality Patch Day Workshop in which 64 scouts earned their patch through six hands-on water quality activities. We also held our Storm Drain Marking program in the spring. This year, we had 33 volunteers at two sites who passed out 575 door hangers on proper storm drain maintenance and marked 96 storm drains with the phrase "Drains are for rain – flows to waterway." In April, we partnered with the Glass City Marathon to reduce and recycle waste from the event. We had 20 volunteers who helped recycle 1,800 pounds of cardboard, 800 pounds of glass, 40 pounds of plastic overwrap, and 50 pounds of plastic cups and bottles. A 20 yard dumpster was filled 2/3 full with compostable material that was delivered to Hirzel Farms.
Throughout the summer, we promoted our Get the Lead Out (GLO) and Clean Your Streams 365 programs. Our GLO events attracted 41 volunteers at 4 sites who removed 6.6 pounds of fishing line and lead from our local waterways. They covered over 1.15 miles of riverbank and collected 210 pounds of trash. Our CYS 365 program included 92 volunteers at 5 sites throughout the region. These volunteers removed 49 bags (over 900 pounds of trash) and covered 3.25 miles of riparian area. In August, Boy Scout Troop and Venture Troop 66 helped construct 20 new fishing line recycling bins that will be installed next year near popular fishing sites. PCS rounded off the summer season by inviting members to our Annual Water Quality Boat Cruise. We had 60 individuals who took a leisurely tour of the Maumee River aboard the Sandpiper in downtown Toledo while four water quality experts presented and answered questions about issues affecting Lake Erie and our region's water systems.
In the fall, we celebrated 21 years of Clean Your Streams Day! This year, we had 910 volunteers spread out across 69 sites in the greater metropolitan Toledo area. They removed 910 bags of debris and 94 tires from our riverbanks. In total, they collected over 23,000 pounds of trash across over 25 miles. We want to thank all of our volunteers throughout the year who made our programs a success!
We want to be your Partner to Give Water a Hand! Follow us on social media to learn more about our programs and presentations. See pictures of our exciting events and connect with us @PCSMaumee (Instagram and Twitter) or follow us at Partners for Clean Streams on Facebook. Check our website for more information and learns way you can do more for our waterways. Thanks for being part of success and 2017 and we hope you'll continue being a Partner in 2018!
PHOTO ALBUMS:
- CYS 21