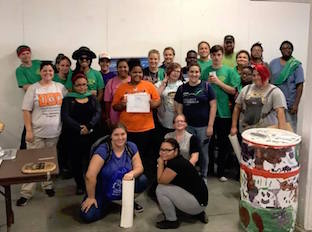 The competition was fierce for the Challenge Awards this year at Clean Your Streams Day. During the Appreciation Picnic, groups and organizations entered to see who would win the three prestigious awards for each category. For the corporate competition, First Solar again retained the title of "Watershed Warrior" with 73 volunteers. O-I earned the "River Guardian" 3-star award with 32 volunteers. Both Hull & Associates and Civil & Environmental Consultants earned the "Stream Protector" award with 25 and 15 volunteers, respectfully. Our "Creek Crusaders" this year were the Mannik & Smith team with 8 volunteers and HSN with 5.
In the organizational River Partner category, several groups earned awards for number of participants. In the 2-star, "Stream Protector" level, Ohio EPA (20 volunteers), Toledo Environmental Services – Water Recreation Department (16 volunteers), and Monroe Street United Methodist Church (13 volunteers) all took home awards. UT's Safety and Health division and the Toledo Waterways Initiative tied for the "Creek Crusader" award with 8 volunteers each.
The Collegiate Challenges were swept by Lourdes University and University of Toledo. In the Battle of the Bags award, Lourdes University took home the trophy for most trash collected at 32 bags. The UT American Society of Civil Engineers came through strong with the Most Volunteers at 18 participants. And, in the Awesome Effort category for most bags collected per person, Lourdes University dominated the competition at 6.40 bags/person.
In the final category for Youth Challenges, there were several groups that vied for each award. The YWCA Northwest Ohio Teen Outreach Program crushed the competition in Battle of the Bags with 95 bags of trash collected. Toledo Early College High School (TECHS) recruited 114 participants, winning the Most Volunteers Award. Finally, Boy Scout Troop 110 took home Awesome Effort Award for an average of 5 bags of trash/person. We want to thank all our groups and organizations that participated in the Challenge Awards and encourage them to come back next year! Oh, and don't forget to bring back your roving trophy if you won 1st place in a Youth or Collegiate competition!