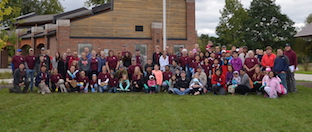 We couldn't pull off Clean Your Streams Day without the generous support from sponsors, partners, volunteers, and planning team members. We would like to express our gratitude to our generous donors who believe in clean, clear, and safe water by financially supporting Clean Your Streams 2018. And it's not too late to make a donation, so we can continue this awesome program. Big thanks to O-I Charities Foundation, The University of Toledo Office of the President, City of Toledo Environmental Services, First Solar, Lucas County Storm Water Utility, City of Oregon, Kwest Group, Perstorp Polyols, Toledo Waterways Initiative, and the Ohio EPA. Your support allowed us to equip our volunteers with cleanup supplies, host the Appreciation Picnic, and support the many staff hours that go into Clean Your Streams Day.
The waterways around Toledo are the real winners of CYS, but thanks to our door prize donors, some volunteers were winners, too! Fin, Feather, Fur Outfitters and Earnest Brew works donated gift sets; the Toledo Zoo donated an annual family membership; African Safari Wildlife Park gifted PCS 2 8-person vouchers; Olander Park offered a free shelter rental; Lucas Soil & Water Conservation District and Paige Sloma put in hand-painted rain barrels with diverter attachments for the raffle; and the Toledo Mud Hens and Walleye showed their support for clean streams with tickets to their respective events this season. Thanks for making the raffle so much fun! We would also like to thank Don Zellers from WSPD for agreeing to MC the Appreciation Picnic. He did a great job and kept everyone on schedule.
Our CYS planning team members work on this program for months to ensure that we have enough volunteers, sites, donations, and support to make CYS successful. Thanks to our amazing planning team: Marilyn DuFour (City of Toledo), Bryan Twitchell (Monroe St. United Methodist Church), Tim Neiderkorn (UT), Deanna Bobak (CEC), Randy Nissen (TECHS), Erika Buri and Danielle Marino (Olander Park System), Kristin Jenkins and Matt Beil (Hull Inc.), Andrea Beard and Don Nelson (City of Oregon), Lauren Rush (City of Perrysburg), Kevin Laughlin (Wood County Engineers), Bob Neubert (Lucas County Engineers), and Eileen Mitchell (City of Toledo). Thanks for making all the meetings, emails, recon missions, printing, and brainstorming all the minor and major issues that we had along the way.
And last but not least, we are so overwhelmed by the quantity and quality of our volunteers. We had a huge number of registrants this year and such a great turnout on Saturday, September 22nd. The willingness to work for our waterways and remove marine debris was apparent by the sheer volume of trash collected that day. Thank you for taking time out of your busy life to volunteer to beautify our community and improve local water quality. Partners for Clean Streams is nothing without our volunteers and we greatly appreciate your dedication to this program. Please remember that you can continue to support clean streams year round by donating to PCS or signing up for one of our other programs.