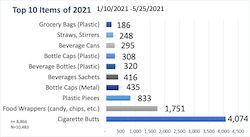 And they are off! Volunteers have been coming out strong this year! So far, we have over 60 volunteers removing 724 pounds of trash and 10,483 items from our waterways. The trash leader so far is cigarette butts. It blew the other marine debris contenders right out of the water, with a total of 4,074. In second, we have food wrappers and third place is plastic pieces. The graph displays how the rest of the top 10 stack up.
Many groups have come out this year to show their love for their waterways. In the lead we have Bowling Green State University's American Society of Microbiology completing 4 different clean-ups. So far, they have removed 488 items from the Maumee River. Close on their heels, we have Toledo FFA completing 3 clean-ups, ranging from the headwaters of the Maumee to the tributaries of Ottawa River.
But this is just the start! We have seven more months to complete this set of data. You can register for a CYS 365 or sign-up to receive emails about our public events, such as GLO and CYS 365, here.