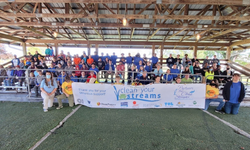 Despite the rain, the Silver Anniversary of Clean Your Streams Day was successful - all because of you! After processing the (wet) data cards we are proud to announce that together we removed 7,613 pounds of trash; but wait more details on what was found will be coming soon!
Interesting finds included an office chair, traffic cone, 70 empty teddy graham plastic cups, tow hitch, pool noodle, decoy goose, glow sticks, fake flowers, a car grill, three flip flops, and a City of Toledo Astro e-scooter.
We will share the complete impact on our social media soon. A deep thank you to every one of the 465 volunteers that showed up on September 25th or participated virtually from September 18th - 25th. You truly made a positive impact on our waterways for our communities, clean water, and wildlife. Special thanks to Toledo Early College High School that brought the largest group, 105 volunteers, to help clean our waterways.
If you did not receive a shirt, please fill out this form. Our grant funders and donors made it possible, to have another great Clean Your Streams program. Want to ensure our streams stay clean for years to come? Donate here.