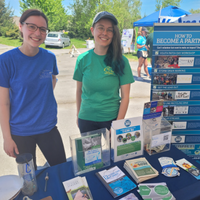 We've been happy to get back into the swing of tabling and in-person outreach events across the region, from as far south as Bowling Green State University's EcoFest and north to Naturally Oregon Fest near Maumee Bay. If you haven't gotten a chance to see us in-person recently, learn more about some of the resources we promote when we're out tabling.
Give Water A Hand Tip Cards

Give Water a Hand has been one of the most successful environmental awareness campaigns in Northwest Ohio. Over twenty local communities and organizations collaborated to create the Residential Campaign and subsequent Business Campaign. One important aspect of this multi-media effort is a series of tip cards on everyday changes we can make in our households and communities to protect water. These seven tip cards cover topics like water-smart lawn care, stewarding storm drains, and reducing our risk of contributing to marine debris. Find them all here.
Clear Choices Clean Water – Greater Toledo Lake Erie

Clear Choices Clean Water is an award-winning national program designed to increase awareness about the choices we each make and the impact they have on our waterways. Clear Choices Clean Water – Greater Toledo Lake Erie is a cooperative effort between TMACOG's Stormwater Coalition members and many local partners. Clear Choices Clean Water focuses on taking pledges to protect water through our everyday actions, from picking up pet poo, to gardening with native plants, to committing to volunteer service. Learn more about these key action items and pledges on the Clear Choices Clean Water – Greater Toledo Lake Erie site.
Toledo Trash Trappers Postcards
Starting in 2021, the City of Toledo has led a project through US EPA's Trash Free Waters program to install trash capture devices around Toledo's waterways and raise awareness around marine debris. Last year, we began creating a series of postcards highlighting the trash trapping devices to be installed in our area. Different trash trappers have different marine debris specialties; some are better suited to particular waterways or particular types of marine debris than others. Although these postcards aren't yet available on our website (you'll have to find us in-person to snag one!) you can still learn more about Trash Free Waters from the City of Toledo's program overview.