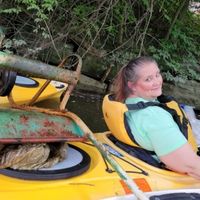 Our Clean Your Streams 365 volunteers are used to taking care of our waterways from the streambank. This summer, however, we've got opportunities to clean up from new points of view - while on the water! We're proud to partner again with Metroparks Toledo and the Wood County Park District on paddle clean-ups, where volunteers remove trash from our rivers via kayaks and canoes.
Metroparks Toledo will offer three public paddle clean-ups: June 15 beginning at the Erie Street Market Boast launch on Swan Creek, July 28 at Delaware Island in the Maumee River, and August 24 at Granger Island in the Maumee River. Click any links to learn more and register. All participants must register via the Metroparks' volunteer portal.
The Wood County Park District is offering an opportunity on July 9 to visit Hedges Island off the shore of Otsego Park to remove debris dumped by early summer flood waters. All participants in this clean-up must register through the Park District volunteer portal.
For all clean-ups listed above, the coordinating organization will provide kayaks or canoes to facilitate the program, although participants also have the option to bring their own boat. If you have any questions about joining one of these paddle clean-ups or want advice planning a paddle clean-up of your own, you can email This email address is being protected from spambots. You need JavaScript enabled to view it. for more information.
Last year, 37 volunteers on our partner paddle clean-ups removed 540 pounds of marine debris from area islands in Swan Creek, Grassy Creek, and the Maumee River. Let's see what we can accomplish in 2022.