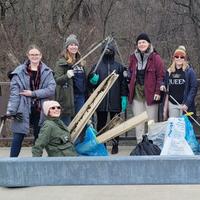 If you're willing to brave a bit of cold, marine debris clean-ups can be a great cure for cabin fever. Plenty of trash is easier to spot and remove before bushes and underbrush fill out. Check out our tips for successful Clean Your Streams 365 clean-ups in wintertime.
How to have a safe and impactful wintertime waterway clean-up:
• Layering gloves can make a big difference to protect yourself both from the cold and from trash you remove. Try wearing a warm layer closest to your skin, and a waterproof and/or cut-resistant layer above like oversized dish gloves or thick gardening gloves. If you're borrowing a waterway clean-up supply kit from us, we have great options to try!
• Be careful to stay dry when the temperature is near or below-freezing. Choose sites that don't take you too close to frozen or slushy waterways. Instead, we encourage you to focus on sites on dry land that might be less accessible in a different season, like an area with thick underbrush. Remember you can always contact us for site suggestions.
• Make a plan for how you'll dispose of trash before you start your clean-up. You don't want to be wandering around in the cold looking for a trash can at your local park.
• Pick your favorite data recording method. If you have touch-screen gloves, the Clean Swell app is a great, simple option. (See our Clean Swell How-To Guide.) Otherwise, recording using paper data cards is a tried-and-true method. (Print your own or pick up data cards as part of your supply kit.) Pencils work better than pens in the cold.
Remember that in any season, you can contact us to borrow a supply kit! Our staff prefers a minimum of two weeks' notice to prep supplies and coordinate pickup with you, and we ask that you bring supplies back within a week of your clean-up.