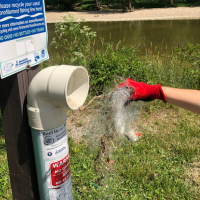 Our fishing line recycling bin program works thanks to organizations who host bins on their properties. Learn more about our recycling bin host partners, from public parks to private businesses, and discover some bin locations in unexpected places around our region.
PCS has fishing line recycling bins as far east as Port Clinton and as far west as Oak Openings Metropark. Across the region, more than 35 bins are currently in-use, with more in the works to be installed in 2023. We appreciate all our partners that keep the program strong.
Bins can be found in park districts and city parks. Metroparks Toledo hosts 18 bins since so much of our region's recreational waterways are found winding through or near Metroparks. The City of Toledo hosts bins on both the east and west sides of the Maumee River. Up north in Sylvania, Olander Parks maintains several fishing line recycling bins for young anglers getting their start in the inland lake. Down south in Wood County, the City of Perrysburg hosts several bins in parks like Orleans and Three Meadows. The Wood County Park District has a similar mix of Maumee River bins, as well as bins on other properties like W.W. Knight Preserve.
Did you know you can find a fishing line recycling bin inside Rossford's Bass Pro Shops and Maumee Tackle Fishing and Kayaking Outfitters? Drop off fishing line to be recycled or if your line is being re-strung, ask the outfitters to make sure it's recycled.
Check out a full map of our fishing line recycling bins. For more information about hosting or sponsoring a bin, visit our Reel in and Recycle page.