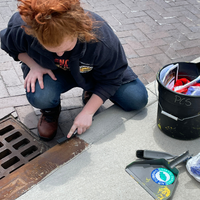 In 2022, 84 PCS volunteers marked 548 storm drains, spreading the word that stormwater stewardship impacts our rivers and Great Lakes. Learn how you can coordinate a storm drain marking program with your business, civic organization, or a youth group.

Storm drains collect the runoff water from paved areas like parking lots, roads, and sidewalks, which allows runoff water from these surfaces to quickly reach the nearest waterway. This helps prevent flooding, which is a good thing! However, not everyone knows that all water that enters a storm drain goes straight into the nearest ditch, creek, stream, or river - untreated. That means anything on the roadway (like antifreeze, oil, excess fertilizer, trash or lawn debris) can make its way from a storm drain directly into our waterways.

Our Storm Drain Marking program connects municipalities, citizens, and active volunteers to protect our drinking water. Throughout late spring and summer, volunteers use stencils to mark storm drains with messages that focuses no our local water system, either "Lake Erie Starts Here, Dump no waste," or "Drains are for Rain, Flows to Waterway." Some local municipalities prefer adhesive metal medallions for their storm drains. Regardless of marking method, volunteers also distribute educational door tags in the surrounding neighborhood. Marking storm drains is an effective way to educate people about possible water contamination through the misuse of storm drains.

Want to schedule a storm drain marking program for a group? Storm drain marking can be done whenever there is warm, dry weather. This program can be fun and meaningful for adults, as well as a great learning opportunity for youth 10-years and older. We provide all equipment and training. To participate, contact our office or fill out the online registration form so we can arrange a location and time for your group.