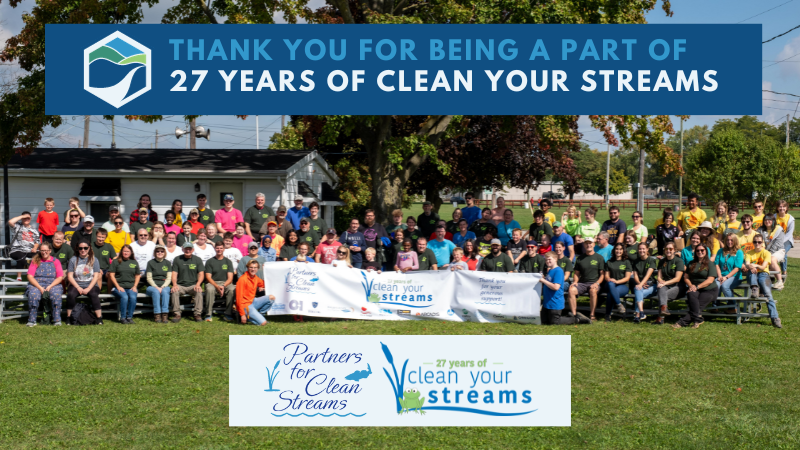 A bit of dust has settled: we've washed the river mud off our boots, the tire piles have been picked up for recycling, and we are sorting through many meticulously filled-out data cards from passionate citizen scientists. We're pleased to share some preliminary results from the 27th Annual Clean Your Streams. How did our volunteers stack up against previous years?
Clean Your Streams is the largest single-day watershed clean-up in Northwest Ohio, as well as the largest clean-up in Ohio that contributes marine debris data to the International Coastal Cleanup (ICC) database. Volunteers have an impact on watersheds around our region, including the Maumee River, Ottawa River, Swan Creek, and Maumee Bay tributaries.
Remote Kickoff
Volunteers chose a time and location during the week leading up to Clean Your Streams Day, submitted liability forms, then shared data and pictures following their clean-ups. The Remote Kickoff allows us to expand the geographic impact of our program and is flexible for volunteers who can't make the Saturday clean-up. This year, most of our remote volunteers cleaned up in the Greater Toledo area, but we also had groups clean-up at Catawba Island on Lake Erie, in Summit County near Cuyahoga Valley National Park, and on Bowling Green State University's campus.
Preliminary Remote Kickoff Results
Volunteers: 170
Sites cleaned: 18
Pounds of marine debris removed: 3316 pounds
River miles covered: 14.3 miles
In next month's edition of Currents, we look forward to sharing our Collegiate Challenge winners, plus a more detailed results breakdown of volunteers, sites, and marine debris removed across all of the 27th Annual Clean Your Streams.
Photo Challenge Winners
We received so many incredible submissions this year for "Strangest Find" photos that we couldn't pick just one favorite!
1st Place "Sloth Hanging Out" – Side Cut Kickoff site, photo by Gene Liegel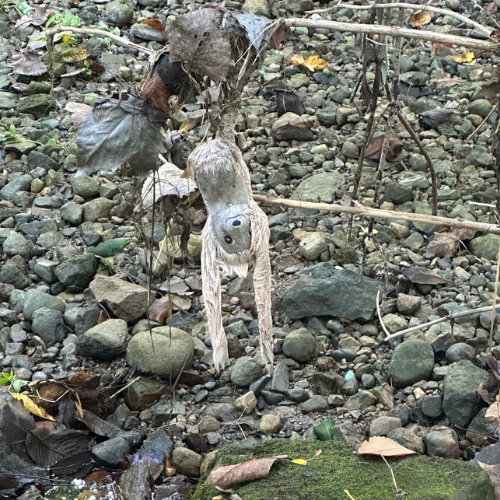 2nd Place "Couch Cushions from the Ottawa River" – Monroe St. UMC Kickoff site, photo by Jess Soffee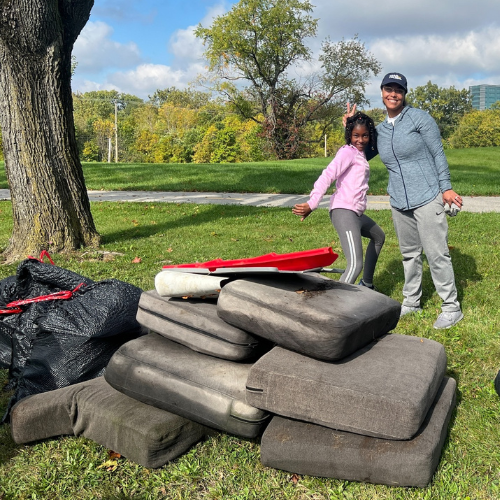 3rd Place "Bowling Ball" – Side Cut Kickoff site, photo by Andrea Beach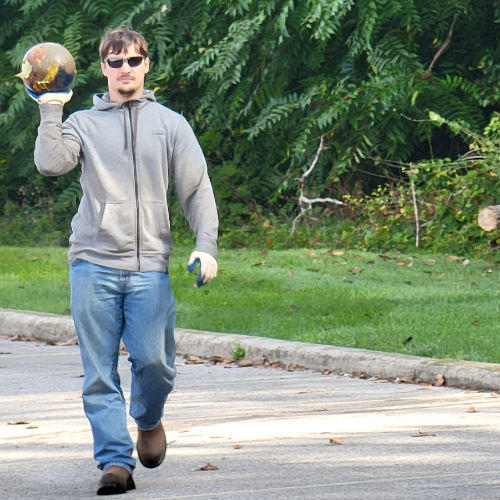 Collegiate Winner – "Bike and Shopping Cart" – UT Kickoff site – from University of Toledo Environmental Law Society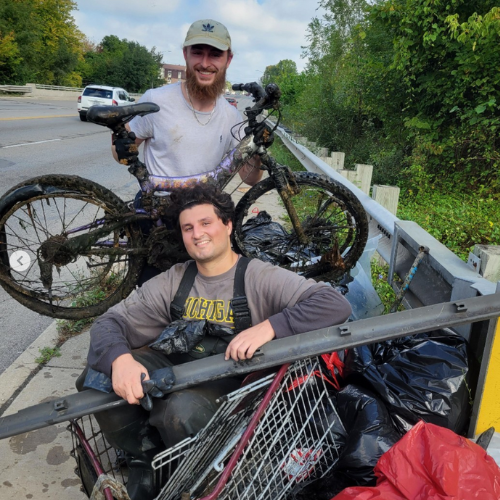 River Partner Certification
River Partner Certification recognizes businesses, nonprofits, agencies, and other civic groups who let us know they brought volunteer groups to Clean Your Streams.
River Guardian (30-49 volunteers) - The Andersons, Inc.
Stream Protector (10-29 volunteers) - Civil & Environmental Consultants, First Solar, Heritage Environmental Services, NSG Glass North America, Ohio EPA, Toledo Department of Public Utilities, Toledo FFA, Verdantas
Creek Crusader (1-9 volunteers) – Arcadis, Fort Industry Chapter of Daughters of the American Revolution, Lowes, Racing for Recovery, U.S. Coast Guard, Vacation Daze with Cassie
Youth Challenge Awards
Youth groups submitted their data at the post-clean-up volunteer appreciation picnic and winners were announced later that afternoon.
Most Volunteers: Awarded to the groups with the most CYS volunteers
1st Toledo Early College High School (92 volunteers)
2nd Northwood Pack 244 (35)
3rd BSA Troop 66 (25)

Awesome Effort: Awarded to the groups with the greatest number of full bags per person
1st Whitmer Science and Environmental Club
2nd BSA Troop 66
3rd BSA Pack 214
Bonus: Tire Champions. Special acknowledgement goes to the Toledo ZOOTeens, who removed an astounding 33 tires during their clean-up!

Battle of the Bags: Awarded to the groups who fill the greatest number of total trash bags
1st Toledo Early College High School
2nd BSA Troop 66
3rd Toledo ZOOTeens