For 27 years, we've been amazed by our volunteers' determined water stewardship during Clean Your Streams. We're proud to present their results with a full breakdown of the citizen science data collected this year.
Clean Your Streams is a watershed clean-up program where volunteers remove trash and record citizen science data on the items they collect. CYS is the largest cleanup in Ohio that contributes marine debris data to the International Coastal Cleanup (ICC) database. Volunteers impact watersheds across our region, including the Ottawa River, Swan Creek, Maumee River, and Maumee Bay tributaries. Over the past 27 years of CYS, more than 16,250 volunteers have removed approximately 397,600 pounds of marine debris.
Like the last few years, the most frequently removed items from Northwest Ohio's waterways were #1 food wrappers, #2 cigarette butts, and #3 plastic beverage bottles. Unusual finds this year included a message in a bottle, turtle-shaped sandbox, hot tub cover, bar stool, bowling ball, coffee table, plastic Christmas tree, and, puzzlingly, an inner tube full of bricks.
Total Impact of Remote and In-Person Kickoffs
Volunteers: 723
Sites cleaned: 70
Pounds of marine debris removed: 14,957
River miles: 37
Check out our full CYS 27 Fact Sheet and downloadable Infographic for more photos and information!
Photo Challenge Winners
We received so many incredible submissions this year for "Strangest Find" photos that we couldn't pick just one favorite!
1st Place "Sloth Hanging Out" – Side Cut Kickoff site, photo by Gene Liegel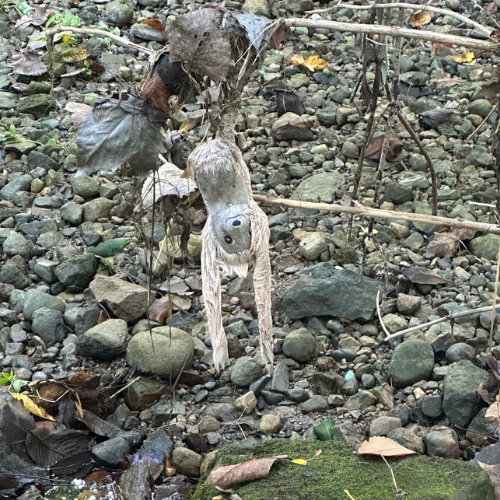 2nd Place "Couch Cushions from the Ottawa River" – Monroe St. UMC Kickoff site, photo by Jess Soffee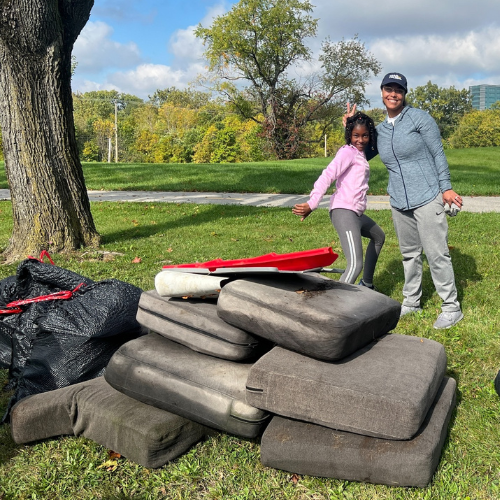 3rd Place "Bowling Ball" – Side Cut Kickoff site, photo by Andrea Beach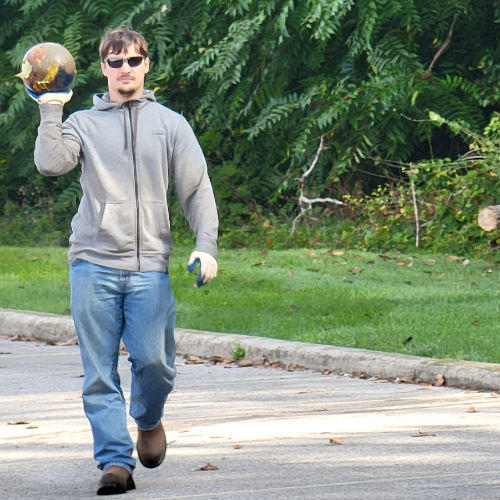 Collegiate Winner – "Bike and Shopping Cart" – UT Kickoff site – from University of Toledo Environmental Law Society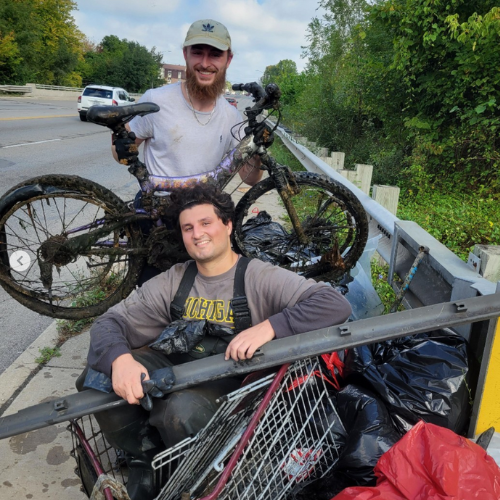 River Partner Certification
River Partner Certification recognizes businesses, nonprofits, agencies, and other civic groups who let us know they brought volunteer groups to Clean Your Streams.
River Guardian (30-49 volunteers) - The Andersons, Inc.
Stream Protector (10-29 volunteers) - Civil & Environmental Consultants, First Solar, Heritage Environmental Services, NSG Glass North America, Ohio EPA, Toledo Department of Public Utilities, Toledo FFA, Verdantas
Creek Crusader (1-9 volunteers) – Arcadis, Fort Industry Chapter of Daughters of the American Revolution, Lowes, Racing for Recovery, U.S. Coast Guard, Vacation Daze with Cassie
Youth Challenge Awards
Youth groups submitted their data at the post-clean-up volunteer appreciation picnic and winners were announced later that afternoon.
Most Volunteers: Awarded to the groups with the most CYS volunteers
1st Toledo Early College High School (92 volunteers)
2nd Northwood Pack 244 (35)
3rd BSA Troop 66 (25)

Awesome Effort: Awarded to the groups with the greatest number of full bags per person
1st Whitmer Science and Environmental Club
2nd BSA Troop 66
3rd BSA Pack 214
Bonus: Tire Champions. Special acknowledgement goes to the Toledo ZOOTeens, who removed an astounding 33 tires during their clean-up!

Battle of the Bags: Awarded to the groups who fill the greatest number of total trash bags
1st Toledo Early College High School
2nd BSA Troop 66
3rd Toledo ZOOTeens